Welcome

Welcome visitor! Would you like to login? Or would you like to create a new account?

Let yourself be carried away into the breathtaking world of jewelry and get to know the diversity of our jewelry collections on the following pages.
At Steiner GbR you will definitely find what you are looking for - whether you are looking for gold jewelry or silver jewelry, whether you are looking for rings, earrings, necklaces or bracelets, whether for her, him or the youngest among us - we are your jewelry manufacturer in Baden-Wuerttemberg.
We are a traditional family company and have been active in the jewelry industry since 1983. Individually manufactured pieces of jewelery and unique pieces, which are manufactured down to the smallest detail according to the specifications and wishes of our customers by a master hand, but also machine-made small or large series for retail and wholesale, we implement for you in reality.
Of course, our service also includes jewelry repair services or jewellery casting services in the lost wax vacuum casting process.
For even more exclusive branded jewelry and high-quality wristwatches, we also recommend that you take a look at our online shop alain LE mondial by Steiner GbR at www.schmuckhersteller.com
You can find our jewelry findings as well as locks and magnetic clasps additionally as usual in our accessories shop at www.magnetschliessen-shop.de or www.schmuck-verschluss.de
All about Chains, Necklaces and Chokers additionally is available at our store www.silberteile.de
In our onlineshop www.opale-edelsteine-brillanten.de you can get glittering Diamonds as well as precious colored gemstones or pearls. In addition to magnificent opals from all over the world, there are other treasures from nature, but also Cubic Zirconia or synthetic gemstones.
We generally offer special conditions for our goldsmiths and wholesalers. In addition we have set up an onlineshop at www.hersteller-schnaeppchen.de especially for large quantities of all kinds. Here you can get Chains, Gemstones, Clasps, Findings, Jewellery, etc. at particularly favorable conditions with appropriate quantities.
Jewellery manufacturer shopping portal of Steiner GbR
Consumers (separate terms and conditions)
Merchants with login and business license
Each onlineshop of the Steiner GbR shopping portal requires a separate registration.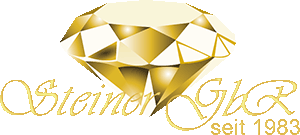 Exklusive Jewellery
and Wrist Watches

Rings | Earrings | Necklaces
Chains | Bracelets

Findings | Clasps
Tools | Accessories

Shop For Wholesalers
Bargains | Wholesale Offers

Silver Chains | Chokers | Rubber Necklaces
Leather Necklaces | Cord Necklaces

Gemstones | Diamonds | Opals
Opal Jewelry | Pearls | Cubic Zirconia


Clasps | Locks
Sales concept and Sample Shop
Visit our sample shop and convince yourself of our attractive sales concept as an additional source of income for commercial customers or those who want to start in the jewellery business.
An overview of your advantages:
Complete sales concept with know-how
You take care of the sales, we take care of the shipping
Large range of items
Quality products from Steiner GbR
No initial purchase necessary
Low capital commitment and low commodity risk
Transparent, manageable, clear and efficient
Are you interested? If you have any questions, please call +49(0) 7174 / 898180 to contact us.
To protect our resellers, we have a reseller login.
Traders and those who want to become a reseller, please apply for activation as a reseller.